We partner with investors, advisors, and institutions to help clients pursue their investment goals through our offering of actively managed stock, bond, and asset allocation portfolios constructed to emphasize downside protection.

Intentionality Delivers Consistency
Just like you, we always have a clear understanding of our objectives, recognizing what we aim to accomplish and acknowledging the challenges that may arise. That means no guesses, no big gambles, and no departure from the disciplined thinking and proven processes that have served us well for decades.

Participate & Protect®

As guardians of our clients' assets, we strive to protect on the downside while participating on the upside. We believe adhering to this key investment tenet over time should lead to better-than-market results with lower volatility.
Intentionally Crafted, Actively Managed Portfolios
Our disciplined approach focuses on risk management to pursue consistent long-term risk-adjusted returns. By prioritizing our strongest investment convictions over benchmark alignment, we aim to deliver actively managed portfolios that perform as expected without unnecessary risks or surprises.
High-Quality Investments
Our process relies on extensive fundamental research to identify and maintain a portfolio of high-quality investments. The end goal is a fully transparent portfolio of easy-to-understand investments that prioritize predictability and stability.



Actively Invested: By Your Side, On Your Team


Investment-Centric Culture and Experience
Our four investment teams have a high degree of autonomy, extensive investment resources, and operational support, allowing them to focus solely on managing client portfolios. Each team shares the goal of protecting capital while generating consistent long-term value-added returns.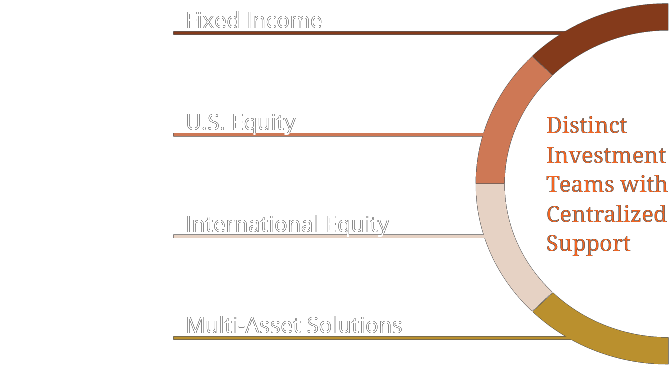 Performance Incentive Tied to Client Objective
A significant portion of our portfolio managers' compensation is tied to the performance of our clients' portfolios. All investment team members earn a base salary, the opportunity to receive incentives, and potential equity ownership, aligning their interests with our clients' interests.
Invested in Our Strategies
We invest alongside our clients. Our portfolio managers have meaningful personal capital in their strategies, aligning with clients who entrust us with their assets. Senior staff have also invested a significant portion of their net worth in Madison Investments' portfolios.


Our History
1989 - Pioneer in fixed income managed accounts catering to the wrap space
1991 - Introduced equity SMA wrap strategies
1993 - Launched Madison Scottsdale Insurance Investment Management
1996 - Acquired GIT Mutual Funds
2004 - Named Top SMA Wrap Manager by Cerulli
2004 - Launched covered call closed-end fund
2009 - Acquired retail assets of CUNA Mutual Group's MEMBERS Capital Advisors
2009 - Introduced Credit Union Investment Management
2010 - Nominated Manager of the Decade for Mid Cap equity performance
2013 - Merged MEMBERS and Mosaic mutual fund families into Madison Funds®
2014 - Established Hansberger Growth Investors, LP (Madison International Equity with branch office in Toronto)
2018 - Launched model-traded Corporate Bond Ladders
2019 - Acquired assets of Broadview Advisors (Small Cap)
2021 - Acquired Reinhart Fixed Income
2023 - Launched a suite of Actively Managed ETFs


Expand Your Inner Circle
Your success relies heavily on the input you receive from your inner circle of trusted professionals. We invite you to bring Madison Investments into your inner circle of trusted investment experts.