By Mike Sanders, CFA, FRM, Head of Fixed Income, Portfolio Manager
In their most recent announcement on November 3rd, 2021, the Federal Reserve ("Fed") announced the reduction of the monthly pace of bond market purchases of $120 billion by $15 billion per month. If this pace holds true, bond purchases should end by the conclusion of June 2022. It is important to note that the Fed has made it clear that it would end tapering before raising interest rates. The Fed Funds Futures market has been quite hawkish off this news and has since priced in almost three interest rate hikes for 2022, starting in July. The market appears to be far ahead of historical Fed interest rates trends, as after the 2008 recession, it took until December of 2015 before the Fed began raising interest rates. Since 2008, there have only been two years with more than one interest rate hike (2017 and 2018).
Given the persisting concerns regarding wages, labor, supply and logistics – all nuanced issues causing inflation – we believe the U.S. economy still faces some real headwinds, and it would be difficult to see an overly aggressive Fed amidst these economic pressures. Not even two months ago, the Fed Funds Futures market assumed three rate hikes starting in December of 2022. As of November 17, 2021, the market has shifted significantly, and now expects rate hikes to begin in July of 2022.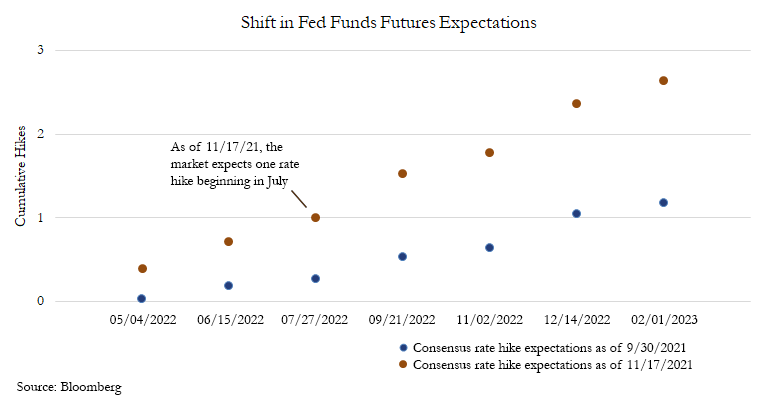 Higher inflation is at the core of this change in expectations, and as a result treasury rates across the board have experienced higher realized interest rate volatility. The higher volatility exists because many investors believe the Fed will have to be more aggressive in order to combat higher inflation. As a result of the change in expectations, the Fed Funds Futures market is pricing in higher future interest rate volatility along the curve. This would go against historical Fed trends and we believe it to be overly aggressive. Thus, with the Fed Funds Futures market being as hawkish and volatile as it is, investors looking to mitigate volatility might consider a conservative fixed income strategy with an emphasis on higher quality bonds.