All fixed income investments are not created equal from a risk perspective
Although the importance of a fixed income allocation in a diversified investment portfolio can easily be forgotten given the extended low yield environment over the last 10 years, an allocation to this asset class remains an important component to a diversified investment portfolio. But from a risk perspective all fixed income investments are not created equal. Take high yield bonds, for example. They often perform more like an equity asset class compared to traditional corporate and government bonds (see table). High quality bonds, on the other hand, typically exhibit desirable diversification benefits and attractive returns during periods of market duress.
Correlations vs. S&P 500
Correlation, in terms of investments, is a statistic that measures the degree to which two securities move in relation to each other: 1 is perfectly correlated and 0 implies no relationship at all.
As evident in the table, high quality fixed income strategies such as Madison High Quality Intermediate Government Corporate Bond have exhibited low and/or negative correlations compared to U.S. domestic equities. More surprisingly, however, is the extent to which fixed income credit securities, as well as some of Morningstar's largest fixed income separately managed account categories, have typically been positively correlated to the U.S. stock market.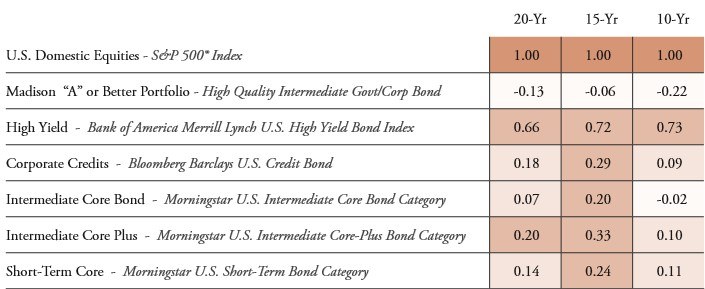 The Madison Advantage

The data paints a compelling picture: the Madison High Quality Intermediate Government Corporate Bond portfolio has historically been a strong diversifier during periods of volatility and negative stock market returns, even in a low yield environment.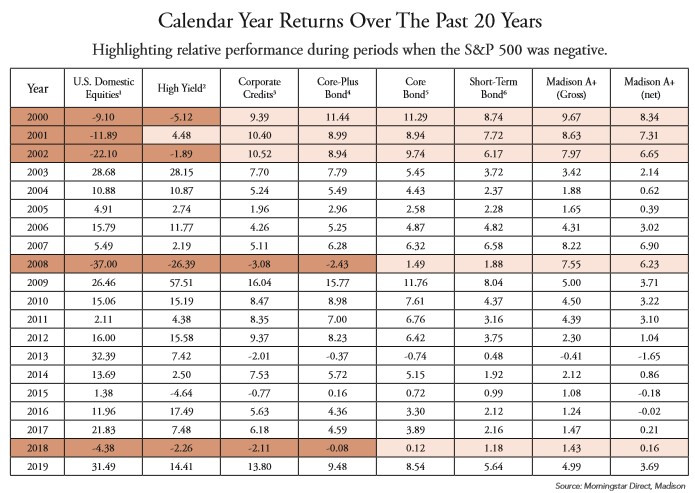 Madison High Quality Fixed Income

Portfolios are managed using a top-down investment process which focuses on capital preservation through active management of all key fixed income risks with an emphasis on duration and yield-curve positioning. Maturities range from 0-12 years with durations ranging from 0-9 years. Portfolios include U.S. Treasury, U.S. Agency and U.S. Corporate issues which typically have a minimum of $500 million in float. Portfolios hold no structured products or high-yield bonds. The average portfolio quality is "AA" and generally consists of between 20-30 securities.